28 Mar

5 Reasons to Get an AC Replacement During Spring Cleaning!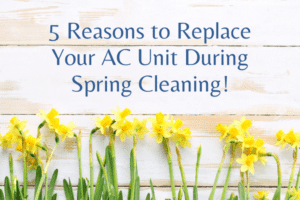 If you're tackling home improvements during this spring cleaning season, we're here to help! Upgrading your heating and cooling units can grant you several benefits, saving you time, money, and making your home more comfortable throughout the year. We'd recommend an AC replacement this spring to ensure you're all set to enjoy the hottest months of the year without a worry.
Our technicians would be happy to help you decide if it's time for an upgrade– especially if your unit is over 10 years old! The average lifespan of your AC unit is only 11-18 years at maximum, and that's only if you've kept up with good maintenance. We'd recommend considering an AC replacement once your unit reaches about 10 years, since most warranties only last 5-10 years and replacements are often less costly than repairs maybe over time. We ask a lot of our Air Conditioning systems with the extreme heat so an older unit will have to work harder to keep up if it can.
Here are 5 reasons you'll benefit from an AC replacement this season:
1. You'll enjoy reduced energy costs. This is especially important throughout the summer here in Tucson! With a more efficient unit, you'll be able to enjoy a lower electric bill throughout the rest of the year.
2. Your home will have better climate control. Ensuring your home is comfortable is one of our top priorities. After all, it's the place where you're supposed to feel safe and relaxed at the end of the day. Get your home ready to keep your family cool this summer with a new, efficient unit.
3. You won't hear your heating or cooling units as much. Newer units have quieter systems! If you're looking for the quietest, most efficient system to maintain peace and tranquility in your home, we're ready to help.
4. Your warranty is up! Most manufacturer warranties on comfort systems only last 5-10 years. That means that when you run into problems, you're more likely to pay out-of-pocket for costly repairs that may just add up to be more than the cost of a new unit. Protect your investment by upgrading before you need to start spending on repairs.
5. You'll love the benefits of working with us.
At Air Excellence, we offer a wide range of heating and cooling units across different brands, but we're also a Diamond Dealer with Mitsubishi. This means that we can bring you top-of-the-line equipment and benefits when you choose to purchase a new unit through us. When we order, install, and register any new Mitsubishi equipment, it will come with a 12-year warranty on its parts from the manufacturer, longer than most warranties in the industry!
Regardless of what your reasoning is for an AC replacement this spring, we're here to help you get it done. Let's cross that off of your home improvement wishlist! Get in touch with us for a FREE quote on installing a new unit.