22 Feb

Heater Installs, Maintenance, and Repairs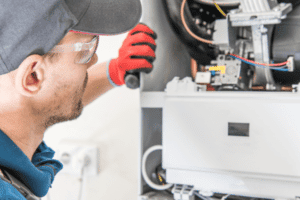 We may not think about our heaters a lot while living in the Tucson desert, but when we do turn them on, we need them to work. Air Excellence Heating & Cooling is here to provide fast, quality service in troubleshooting your heater problem! Our skilled technicians are here to serve you in providing new heater installation, maintenance, heater repairs, and emergency repair services. 
The experts with Air Excellence Heating & Cooling are here to help you choose the best new heater for you! We can help you find the right system for your home or office. We offer installs on all brands of equipment, including Rheem, American Standard, Mitsubishi, Carrier, Payne, Gree, Armstrong, Heil, Tempstar, Lennox, Goodman, Amana, and also Daiken. We're happy to help you create a cost-saving, more efficient home with new systems that perform better and may cut your electricity costs. 
The best way to make the most of your new heater, and to prevent the need for emergency repairs, is through regular maintenance. At Air Excellence Heating & Cooling, we offer Service Maintenance Agreements that will keep your heater in its best possible shape. Our technicians will call to schedule a visit twice a year to change your air filter and perform a 24-point inspection to ensure your heater is working in its most optimal and efficient shape. If our technicians find any problems that need to be resolved, then as a maintenance customer, you'll receive a discount on parts and labor, as well as priority service. 
When you realize your heater isn't performing how it should, whether your home isn't getting warm, it's costing more money, or you start to see physical signs of issues, we're here to help. Our technicians will come perform an inspection in order to recommend the best course of action. After a thorough inspection, we'll explain to you the underlying problem, give you a pricing quote, and show you the diagnostics used to determine it. With over 50 years of experience, Air Excellence Heating & Cooling provides service you can trust to be honest and reliable. 
Our mild winters can sometimes put maintaining the heater out of our minds. This may result in an emergency heater repair later on, when they're needed. On especially cold nights, an emergency heater repair can make a difference in the safety of your family and pets! Air Excellence provides quick and efficient emergency heater repairs that you can rely on. We have technicians on-call after hours for those times where you just can't wait– and we understand that you need our help fast! To request an emergency heater repair, give us a call.