26 Oct

Season of Giving Giveaway – We're Holding a FREE AC Unit Giveaway!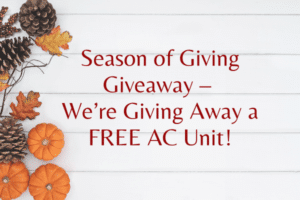 Free AC Unit Giveaway
We're hosting a FREE AC unit giveaway!
Do you or someone you know need a new AC unit? Here's your chance to win one for free! We're excited to announce that during this season of giving, we're here to give back!
That's right– as a present from our family to yours, this air conditioning unit will be completely free. Just in time for Thanksgiving, we're looking for a lucky family to receive this gift. 
Air Excellence Heating & Cooling has partnered with American Standard Heating & Air Conditioning to gift a new air conditioner system to a family or friend in need. Just in time for Thanksgiving, this giveaway is our way of showing gratitude to our community for their support.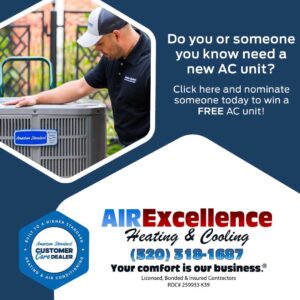 Giveaway Entry
We're so thankful to have this opportunity to make a difference for a local family. We believe that taking care of our community is our responsibility, but also an honor! That's why we're grateful for this chance to give back and help someone who couldn't otherwise afford it.
The giveaway will run from October 26th through November 12th, so help us spread the word and take a few minutes now to nominate someone that deserves the help! 
Simply fill out the form on our website to enter to win! Feel free to also share this with your friends and family– we want to find someone who's in need of help this season! Here is where you can find the form and all of the details. 
The terms and conditions are subject to change. Must be the homeowner, not a tenant or investor. Must have a current AC system with power and duct work. Excludes evaporative coolers and mini splits. Excludes apartments. Home owner to supply a permit, if required. Must have installation completed by November 21st, 2023.