28 Aug

How to Improve Your AC Efficiency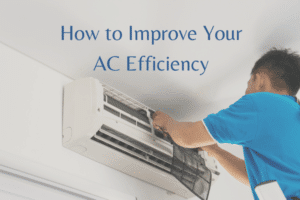 Want to help keep your AC running smoothly? Whether this is on your mind because you just bought a new unit or you're trying to keep your cooling costs low, we're here to share our best tips with you! Aside from hiring experts, here are some ways that you can make a difference in your AC efficiency at your home or office: 
1. Change your AC filter monthly. 
This step is not only simple, but it's easy to remember with the help of a reminder. Replacing your AC filter monthly is one of the easiest ways you can keep your unit running efficiently– this practice can even lengthen its lifespan! As an added bonus, changing your filter will also help improve the air quality.
2. Schedule AC tune ups twice a year! 
We'd recommend scheduling one in the Fall and one in the Spring, just before the peak heating and cooling seasons. This gives our technician the chance to spot and problem solve any issues before your unit is needed most. This maintenance can also help improve your energy costs and lengthen the lifespan of your unit.
3. Don't turn off your AC during the night or while you're at work.
It may seem like a cost-effective measure to not run your AC while you don't need it, but this actually does more harm than good. Humidity and heat levels will increase while your unit is off, so when your unit is turned back on, it will need to work even harder to cool the space again. This extra work will end up being more costly to both you and your unit.
4. Use a programmable thermostat– especially a smart thermostat!
A thermostat that allows you to program its settings means that you can set it up to suit the needs of your daily life. This can include reducing use when you're not home and adjusting it throughout the day according to your schedule and changing plans. With a smart thermostat, you can even track your home's energy use, keep an eye on your future costs, and adjust your preferences to save more energy.
5. Buy a new, more efficient AC unit.
Buying a new air conditioner is a great solution if you're looking for a new, more efficient unit! New units can save you plenty of energy costs with AC efficiency, plus, you'll be proactive about upcoming problems if your current unit is near the end of its lifespan. We'll also recommend a new AC installation when the costs to repair your unit are substantial. We offer a free estimate on replacement, as well as financing options, so that you can make the best financial decision for your family!
Keep your AC unit performing its best by following these steps! Set up reminders, sign up for an AC maintenance plan, and consider changing out your thermostat to take better control of your energy use. Effective AC use can save you time, money, and plenty of headaches. We're here to help with your AC efficiency and more! Get in touch with us to schedule your tune up, set up a maintenance plan, or get a free estimate on a new AC unit!